Catholic Gathering is a Place Dedicated to Fostering Informed Conversations Among the Faithful Regarding our Spiritual Life.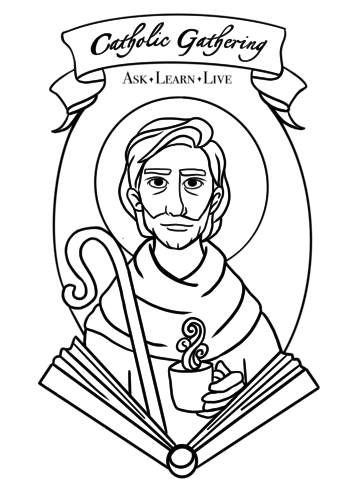 Leave No Soul Behind:
A Handbook for Catholics
Look around.  The world is a mess.  None of the common solutions are working.  God is the only answer, but no one is listening.  Like in Jericho, with God's help, we need to break down the walls that people have built.  To do that, we need to pray, live our faith, and offer sacrifices.  In Leave No Soul Behind, Fred Vilbig offers an action plan to save our loved ones and society from the descending chaos.  Together, with God's help, we can make a difference.
As the world attempts to pull away from the Truth, faithful Catholics are challenged as perhaps never before. "Leave No Soul Behind" is an insightful and inspirational book that illustrates apologetic tools for battling secularism. Author Fred Vilbig offers evangelical guidance in easy, conversational prose which explains each of these tools: prayer, holiness, and sacrifice. Each chapter thoughtfully explores the richness and beauty of the Church using well-researched, poignant examples of the faithful, grace-filled lives of our Saints and Holy Scripture. This book was enlightening and fun to read. I would especially recommend it to anyone questioning their faith or needing to help others struggling with theirs.
A reflection on the text: "Leave No Soul Behind: A Handbook for Catholics", by Fred L. Vilbig.

In the very beginning of this "Handbook for Catholics," the author states "The world is a mess." Even the world is beginning to state the same thing. Today's Post-Dispatch (June 7) states in front page headlines: "IT'S A HOT MESS".

The author states: "There is some sort of deep spiritual longing in us that wants to be satisfied; an emptiness that will never be filled with things". To confront this secularism, we need to use the weapons of our faith: "living a holy life in Christ; seeking to know him through prayer; modeling your own life on those of the saints, and sacrificing daily for the souls of our loved ones."

In this handbook, the author proposes a three-part program of prayer, holiness, and sacrifice. Each of these is so clearly illustrated and saturated with quotes from scripture and from the lives of the saints that the reader is apt to say to himself or herself: "Oh, I can do that!", Or "I want to do that! Thus, the reader quickly becomes involved in spiritual transformation that is both fulfilling and life changing.

The author is to be commended for his accuracy in diagnosing the issues and proposing effective spiritual remedies that transform hearts. I might say that this handbook proposes a prayer agenda that will last a person until that person meets Christ "face to face."
Just finished Leave No Soul Behind - A Catholic Handbook. All I can say right now is WOW .... what an extraordinarily POWERFUL book. It was and is an answer to a prayer I've had for many years. I've always been curious about how people continue to grow in their faith and spiritual journey. Now I understand. I love that you had the foresight to call this a handbook about our Catholic faith - I'll certainly read sections of the book many times over and pray that I continue to embrace, and be teachable to, a higher understanding of our Faith. I loved the stories told about the saints and the historical references of the times. You really did an excellent job of keeping things simple and easy to understand. There is something very special about how you explain the more difficult (faith) aspects of Catholicism. You have certainly done a masterful job of conveying exactly what the book was designed to do - "designed to give faithful Catholics some ideas and suggest some practices about how we can more devoutly live our faith."

The Conflict - Really liked your statement of the case man really does not have an adequate answer to the most pressing problems in the world. There really is no better logical explanation than what you Propose as solutions-Prayer, holiness, and sacrifice

Prayer- Excellent job of explaining the fundamentals of prayer and further (for people like me), how to pray and what to pray. A great resource that I will use for the rest of my life. I never really understand prayer in such a purposeful and intentional act. Like the idea of saying prayers slowly and discerning each of the phrases. Also enjoyed hearing that our prayer life can start as very basic with prayer recitals then moving more towards building a relationship with God.

Holiness - Great reflection on the Ten Commandments! Our propensity to sin cannot be avoided and you've convinced me for the need of confession and the purging of my filth. (Yeah, I'm convinced ... need to go give my soul a bath and start new!) More than anything else, you have conveyed that the saints are true spiritual guides for us and truly great mentors about all aspects of our struggle to be more holy. I now want to read and know more about the saints! New for me was a better understanding of the Corporal and Spiritual works of mercy. I really like the detail of explanation you've written - very helpful to understand the importance of acting on the works of mercy. WOW

Sacrifice- Yes, I like most Catholics I assume, have (had) a very distorted view of the suffering in the world. Great explanation on the reasons for suffering and how we should choose to embrace and learn from our difficulties in life. No question I'll be referring back to this section many times a year. It seems to me that there is great value in reflecting on past trials and difficulties in order to see where I could have grown from the experience. (what I did that could have made a difference ... what God could have helped me understand better).

Fred, I'll thank God at every opportunity there are spiritual icons of our faith like you. What a tremendous example you have been, and will be in the future, for folks like me. As far as I am concerned, there are no coincidences and I feel very honored and blessed to have read your book. Thank you for being the champion of our faith and acting on God's call for you to write!!
In Leave No Soul Behind, Vilbig masterfully presents the case for living a life of holiness and bringing others to the fullness of life, namely by following Jesus Christ and His Church. The path to holiness is presented through practical explanations and intriguing accounts of the lives of the saints. Leave No Soul Behind is a must-have for anyone looking for an approachable guide to growing in sanctity by drawing on the rich traditions of the Church.
This book addresses the current exasperation most of us feel when we look around and see what seems to be a hopeless failure of society, politics, education and global forces. The author recognizes correctly what are the critical questions and guides the reader to finding the answers.  He correctly identifies the malady as spiritual in nature and humbly offers the pathway to healing.  Like an older brother, he guides the reader through issues either he has experienced directly or vicariously in his extensive reading.   What makes this book work is that Fred Vilbig welcomes you into the world of the "communion of saints", which includes not only those officially canonized, but all of us.  The title borrows from the military idea of leaving no man behind.  Like soldiers, we the Church Militant are in a spiritual battle.  Our weapons are prayer, holiness and sacrifice; and we receive our training from the saints.  Not only must we fight, but we must reach out and bring our injured brothers home with us. I recommend this book for Catholics who wish to further develop their spiritual lives for their own sake and for their friends and families.  Also, it would be excellent for those who are in RCIA or thinking about joining the Church.
Fred Vilbig's book is an exceptional example of a layman and father witnessing to our Catholic faith. His threefold battle-plan of prayer, holiness, and sacrifice is simple but powerful, and he wonderfully incorporates the witness of the saints and the wisdom of the Church to offer us hope in our own struggle to be evangelical Catholics, solid principles upon which to base our spiritual lives, and an example to all of us of someone doing just that.
You Can't Take It With You:
Probate, Wills, and Trusts Explained
Through the years, Fred has written hundreds of articles on Estate Planning, Wills, Trusts, Business Law and Real Estate Law. Most of the time, these topics are usually somewhat dull themes for a book targeted to the non-lawyers or financial planners, but not in Fred's case. Most of these articles involve stories of real people with real problems.

The stories range from family arguments when one person is cut out of the Will to family intrigue where one family member tried to convince a confused older family member to give them money. Other stories show the results of what happens when people don't plan for the natural conclusion of life, which results in headaches, costs, and stress for a loved one. Fred has combined his stories into his new book called "You Can't Take It With You". A master story-teller, Fred keeps your interest with his tales of money and family problems, while all the time educating you on the subjects of estate planning.